Highlights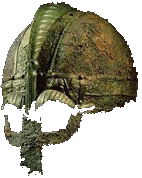 This movment is a key part. Here the mastersmith forges the invincible sword as a reaction to the competion instigated by Loki in movment 28.
Here the sword theme is presented in full. The completion of the sword is the true beginning of the end. The destiny forces are set in motion. Now there is a weapon in the world that grant absolute victory to the wielder, a weapon that nothing in the nine worlds can stop.
This part captures Freyja's divine beauty and her despair over her beloved Svipdag. It also expresses her feelings over the unforgiving fait that had turned the once good world on the path of self-destruction.
From the depths of the ocean the new world moving toward the surface, and breaks it with cataclysmic force. The mountains and land rise out of the turbulent sea. When the new world settled, a new mankind look upon the earth with innocent eyes and hearts filled with wonder.
*HOME *