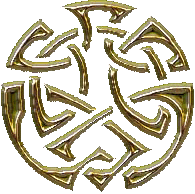 157 A NEW EARTH ARISES
The sin-defiled earth sinks into the sea and is dissolved.
Slowly the flames go out, and in purified air, underneath a higher heaven, a new earth arises out of the ocean, the primal earth of Mimir and Urd, the world of the three wells, where the grass is ever green and the flowers never die, that world where Hoddmimirsholt and Breidablik will remain forever.
There live Baldur, Nanna and Hödur, as well as Lif and Leifthrasir, who are the parents of a new mankind.
Glittering waterfalls tumble off the mountains of Nidafjäll, and overhead the eagles swarm,
and all manner of creatures come forth, as planned by Mimir in days of yore.
Unsown fields will bring forth corn, and righteous children of
men will settle upon the earth and enjoy its fruits again and again
underneath the golden roofs of Gimli, which will remain forever, more beautiful than the sun.
*HOME *