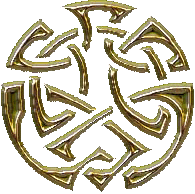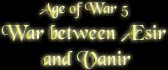 109 BATTLE IN THE HALL OF GYMIR
Svipdag went to Gymir's hall along with Freyja. They planned to betray the Giants. Thor and Ull rode secretly to the north, and hid themselves near to Gymir's mountainous abode.
Gymir told Svipdag
that he planned to keep Freyja, and proposed that he himself marry Gerd.
Thus he would regain the sword of revenge, be able to fulfil the blood vengeance which he had sworn, overthrow the God-powers and himself become Lord of the Universe.

Svipdag pretended to accept
this, and now a double wedding was prepared.
Just in time Thor and Ull burst into the rocky hall.
Svipdag grabbed his weapons, and Freyja fought valiantly by her husband's side.
Gymir and all his clan were slaughtered after a violent battle, and the Gods brought Gerd
into Asgard.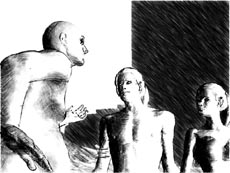 ORIGINAL GRAPHICS
MATS WENDT © All Rights Reserved
*HOME *