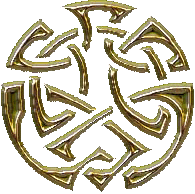 104 RECONCILIATION BETWEEN THE GODS AND IVALDI'S KIN
Now Svipdag and Freyja had a lawful wedding in Asgard. Idun daughter of Ivaldi married the Bard-God Bragi. Thor married Sif.
Njörd took as wife Skadi daughter of Völund. She arrived in full armour at the gates, where she was welcomed.
She was made a Goddess in compensation for her father, and through the marriage she became one of the Vanir.
Völund's eyes were cast upon the heavens, and turned into stars.
Thus he gained honour in the end, like his brother
Egil long ago.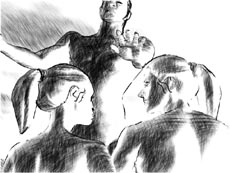 ORIGINAL GRAPHICS
MATS WENDT © All Rights Reserved
*HOME *