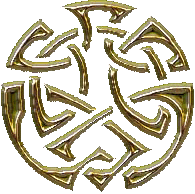 103 SVIPDAG IN ASGARD
On a spring morning a young man with a gleaming sword walked alone up to the gates of Asgard, and beheld in wonder the golden citadel on green plains within.
On a flowery knoll Freyja was sitting, deep in her secret dreams, surrounded by Eir and other Dises.
When the young man had exchanged words with the gate-keeper for a while, he revealed his name, and the magnificent gates instantly opened.
The fierce wolf-hounds, who are trained to let no one pass, came running and licked his hands.
The gate-keeper informed Freyja, that she had a visitor, who was none other than Svipdag Egil's son.
Then the Vanadis awoke from her slumbers and leapt to her feet. She recognized her loved one instantly and greeted him with a kiss.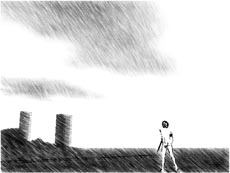 ORIGINAL GRAPHICS
MATS WENDT © All Rights Reserved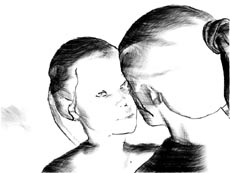 ORIGINAL GRAPHICS
MATS WENDT © All Rights Reserved
*HOME *