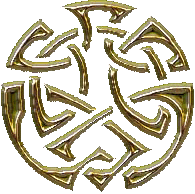 098 SVIPDAG OBTAINS THE SWORD

After a dangerous journey north over snowy mountains and barren wastes, Svipdag found the entrance to the Underworld.
After fighting the Njar who guarded the gate, he entered the dark tunnel, and finally emerged in Niflhel.
He boldly made his way through the terrors of Niflhel, climbed the Mountains of Hvergelmir, saw the World Mill turning, and finally came down on the other side into Mimir's Kingdom, where he made his way towards the palace of Night and her dark Dises.

He was welcomed there by the sorrowful Queen of Mimir and her daughter Bödvild, and there he saw the boy Vidga, the son of his uncle Völund.
He offered to give the Queen Mani's silver sickle, which would enable her to cut the thread of blood vengeance fixed by Urd in the name of Vidga.
Svipdag took upon himself the duty of avenging Völund, whereby the Sword of Revenge would be rightfully his.
Mimir's Queen open the nine magical locks that separated the sword from the world. There it was in all its splendor, shining of its inner power. He took the sword and exchanged it for the moon-sickle.
Before Svipdag returned to the upper worlds, he was allowed to look upon various wondrous places and things in the Underworld, among them the magically locked Breidablik, where the Asmegir ( Lif and Leifthrasir) await by Baldur's side.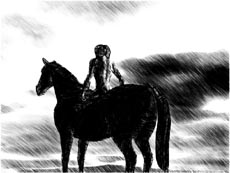 ORIGINAL GRAPHICS
MATS WENDT © All Rights Reserved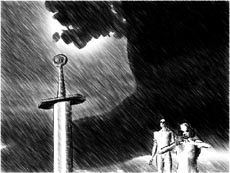 ORIGINAL GRAPHICS
MATS WENDT © All Rights Reserved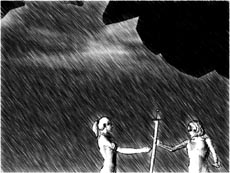 ORIGINAL GRAPHICS
MATS WENDT © All Rights Reserved
*HOME *