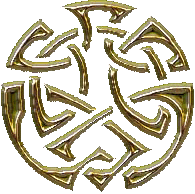 097 SVIPDAG AND MANI (THE MOON GOD)
Svipdag freed himself from the bonds with the help of the
magic spells, which Groa had taught him.
Overcome by despair he roamed the woods in the moonlight.
Mani spoke to him, and told him not to despair: In the Underworld "Sinmara" kept his uncle's magical sword hidden inside the World Tree itself. If he could fetch it, victory
would be his.
This Sinmara was burdened with sorrow, and if Svipdag could lighten her burden, she would give him the sword.
In order to free her from sorrow, he would have to bring her a sickle, which could cut a certain one of the threads of Urd's fate.
Mani also told Svipdag where he would find the entrance to the tunnel leading down into the Underworld, and how to get there.
When Mani had spoken, a silver sickle fell to the earth at Svipdag's feet. He seized the
sickle, and began his journey.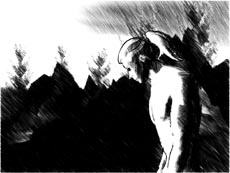 ORIGINAL GRAPHICS
MATS WENDT © All Rights Reserved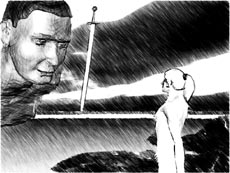 ORIGINAL GRAPHICS
MATS WENDT © All Rights Reserved
*HOME *