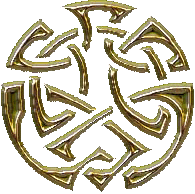 092 BATTLE ON THE WESTERN AND EASTERN SEAS
Great battles were also fought on the Western and Eastern Seas
against the powers of winter.
Brokk and Bjar, Sindri's brothers,
slew a horrible sea-monster of giant birth.
Thor and Thjalfi wrested the Danish and Swedish isles from the rule of Giants.
On Hlesey (Lässö) Thjalfi almost lost his life when attacked by a savage
ogress, but Thor saved him.

*HOME *