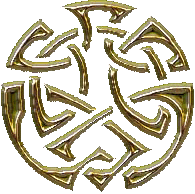 Hildigeir, Halfdan's half-brother, was slain as he fought in the
Swedes' army.
Drótt had born him in Sweden, while married to the clan-father of the Hildings, before she became Skjöldborgar's wife.

Halfdan was born in Denmark, and knew not his brother.
Hildigeir was slain by Halfdan's sword, after having spared his life. As he lay dying he revealed himself to his brother.

*HOME *