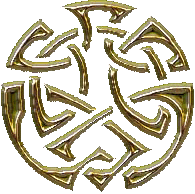 084 VÖLUND AND IDUNN IN THRYMHEIM
Völund found Idun his betrothed again, and together they barricaded themselves inside a mountain in Thrymheim.
Disabled in body, bereft of his sword, unfit to do battle with the Gods, Völund could still go on laying Midgard waste with his sorcery and magic songs.
Further- more, as the Gods' elixir of eternal life was still in Idun's keeping the Gods were bound to fail sooner or later.
Time alone would show how: either by the ravages of old age, or the sword of revenge in the hands of Völund's son.
ORIGINAL GRAPHICS
MATS WENDT © All Rights Reserved
*HOME *