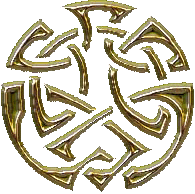 037 THE GODS JUDGE IN THE BET OF LOKI AND BROKK
After witnessing the slaying of Hrungnir, the gods judged that the
iron-hammer Mjölnir was the best of all treasures, Sindri a better
smith than Völund, and thus Brokk had won the bet.
Furthermore
they supported Loki's claim that Brokk could only have his head,
and might not harm his neck.
Thereby the Gods had offended both the sons of Ivaldi and the sons of Mimir.
Brokk sewed Loki's lips
together with his brother's awl.
*HOME *