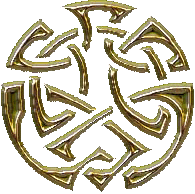 038 VÖLUND AND LOKI
Odin, Hönir and Loki travelled in the wilderness.
Völund, having taken the shape of an eagle, carried Loki away, and forced him to agree to help smuggle Idun out of Asgard with the Gods' elixir of eternal life.
Völund was resolved on revenge for his father's death and his own honour, and decided to ruin the Gods and all of their creation.
*HOME *