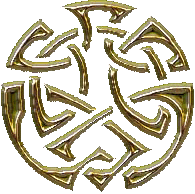 034 THE MEAD AND THE MOON
In Ivaldi's kingdom a well was discovered, and named Byrgir, probably directly connected with Mimir´s well, conferrring on it's imbibers a gift of poetic power and ecstacy.
Ivaldi tried to keep this secret,
and sent two of his children in the dark of night to empty out the
well and bring back the mead.
(Note: The two children, Hjuki and Bil, are perhaps better known as Jack and Jill.)
Nepur the Moon-God spied the youngsters on their way back home with a pail full of mead, and
abducted them and the mead.
From this mead he allowed the Gods to drink as much as they wanted.
.
*HOME *