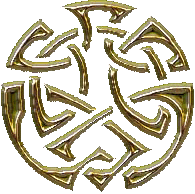 029 GIANT HRUNGNIR IN ASGARD
Odin rode his hose Sleipnir into Jötunheim in order to meet the
Giant Hrungnir, who claimed his horse Gullfaxi to be the best of all
horses.
Hrungnir fought verbally with Odin unto Asgard.

In Asgard Hrungnir was politely offered a drink, but soon he became abusive and started threatening his hosts.
When Thor entered the hall, he regretted his brawl and started claiming the immunity resulting from Odin's invitation.
Since he carried no weapon, he
offered to fight Thor in a duel at Grjottunagård. Thor accepted.
.
*HOME *