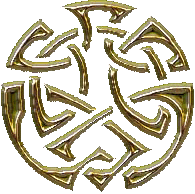 030 THE TRIAL OF MJÖLNIR
Thor went to fight Hrungnir.
He had expected Egil to accompany him, but when he reached Elivogar, he found out that Egil had just entered Jotunheim to fight an army of Giants.
Therefore he took the young Thjalfi along, in order to participate in a fight of epic
proportions.
During the fight Thor fell to the ground, but threw his hammer, which crushed Hrungnir's skull into tiny pieces, whereupon the hammer boomeranged back to Thor.
Thjalfi proved his worth by
slaying Hrungnir's golem-like servant Mökkurkalfi..
.
*HOME *