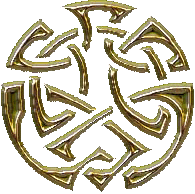 025 THE THEFT OF THORS VINGNISHAMMER
While travelling with Loki, Thor's hammer was stolen.
The Giant Thrym buried it deep in the ground, and refused to part with it unless in exchange for the goddess Freyja.
Thor went to Thrymheim disguised as Freyja, wearing bridal finery, carrying Brísingamen around his neck, accompanied by Loki disguised as a bridal maid.

At the climax of the wedding, the hammer was ceremoniously carried
into the hall in order to sanctify the wedding, and placed in the
"bride's" lap.
Thor then grabbed his hammer, and thereupon killed Thrym and all his kinsmen.

*HOME *