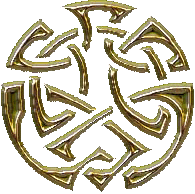 026 THE CITY WALLS OF ASGARD
The age of peace was now at an end, so the Gods had to build battlements around Asgard, to guard them from the sworn enemies of the regulated universe.
The only builder available wanted Sun, Moon and Freyja as payment.
However, he was prevented by Loki to finish the job on time, and thus forfeited his payment.
Being a Giant he did not like this, so he went into a giant-tantrum, and had to be killed by Thor.
Loki had metamorphed into a mare in order to seduce the Giant's horse, and soon after gave birth to the eight-footed steed
of Odin, Sleipnir.
.

*HOME *