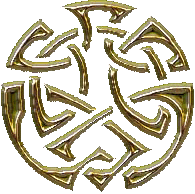 024 THOR GOES TO GEIRRÖDAR GÅRD
Inescapably, Gods and Giants were now at war.
Egil could only just manage to defend the Elivogar straits.
The daughters of Geirröd devised a scheme with Loki in order to undermine the strength of Egil's and Thjalfi's defenses, and the vigilance of their Elven
warriors.
Loki tricked Thor into a campaign against the giant Geirröd.
Thor, Egil, Thjalfi and their legions entered Jotunheim.
They were ambushed, and Egil and his champions were almost drowned at the Elivogar ford.
After a battle with the Giants inside the stony halls of Geirröd,
Thor and the Elves slaughtered Geirröd and all his clan.

*HOME *