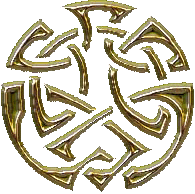 106 SVIPDAG ATTEMPTS TO RESURRECT BALDUR
The end of Fimbul-Winter, the defeat of the Giants and reconciliation with Ivaldi's clan filled Frigg with hope that fate of the world might be reversed, and Baldur resurrected from Hel.
Svipdag took it upon himself to
carry her wish to the Norns, and her greetings to Baldur and Nanna.

He rode on Sleipnir into the Underworld, and when he returned, he brought back greetings and gifts.
Baldur returned the ring Draupnir
to his father; Nanna sent Frigg fine clothes, and Fulla a golden
ring.
The Norns of fate had told Svipdag, that Baldur might indeed
return with Nanna on one condition: that no creature could be found
that hadn't wept or wouldn't weep over Baldur's death.
But soon it became apparent that such a creature existed: an ogress named Thökk, who chanted from her mountain-cave: "Thökk shall weep dry tears over Baldur's funeral pyre".
It is more than likely that Thökk was either of the two, Gullveig or Loki.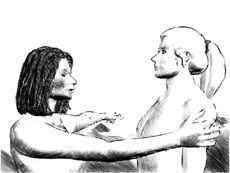 ORIGINAL GRAPHICS
MATS WENDT © All Rights Reserved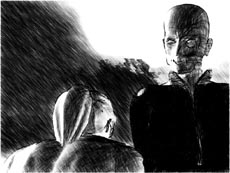 ORIGINAL GRAPHICS
MATS WENDT © All Rights Reserved
*HOME *