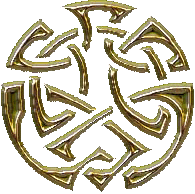 086 THE DEATH OF VÖLUND
When Völund returned and realized what had happened, he immediately dressed in his eagle-shape and gave chase to Loki, all the way to Asgard, where the Gods were ready to receive these two birds.
As soon as the falcon had entered Asgard, they set fire to the magical river which surrounds Asgard.
Völund, wounded with spears and arrows, flew into the fire, and crashed to the ground with burning wings, whereupon Thor slew him with his hammer.
*HOME *