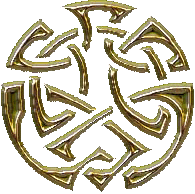 059 THE PYRE OF BALDUR
The pyre of Baldur was made on his ship, Hringhorni.
Odin carried his son in his own
arms onto the pyre.
When Nanna, Baldur's wife, witnessed this, her heart burst with sorrow, so that she was able to join her beloved husband on the funeral pyre.
Odin laid the ring Draupnir on Baldur's chest and whispered in his son's ear.
What he whispered will never be
known.
The pyre was lit, and the burning ship sailed out onto the ocean of the heavens.
*HOME *