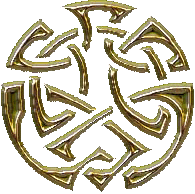 056 ODIN AT GULLVEIG'S MOUND
Odin rode on, and soon he passed the place where Gullveig's bodily
remains had been buried. Nearby a palace stood, tall and magnificent,
which had been built by Mimir's sons. Odin looked in, and saw
"benches covered with costly rings, and beautiful beds embroidered
with gold". But the mound of Gullveig was covered with snow, even
though winter never comes to Mimir's realm. Odin raised the witch
back from the dead, but all she did was to repeat her brother's
prophesy.
*HOME *