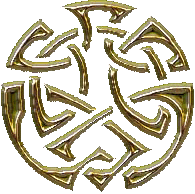 054 ODIN'S EXCURSION TO THE UNDERWORLD
Odin saddled Sleipnir and entered the Underworld from the north,
passing through Niflhel towards the kingdoms of Mimir and Urd.

In Niflhel he sought out Hrossþjófur, Gullveig's brother, who made a prophesy that he would beget upon Rindur in the West Halls a son, who would be his brother's bane.
A hellish giant dog, foaming with
blood, followed Odin all the way to the borders of Mimir's realm.

Odin sought out Mimir and asked the Ruler of the subterranean
Paradise to answer his burning question: Did Baldur's death mean the end of all creation?
*HOME *