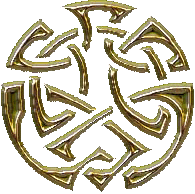 047 BROTHER BETRAYS BROTHER
Hödur was hunting in Járnviður (Iron-Wood) and stayed overnight in a cave, where a witch welcomed him, and bewitched him with a magical potion, so that he was tricked into swearing an oath to gain the love of Nanna, Baldur's betrothed.
The magical potion filled Hödur's heart with a burning love for his brother's fiancée.
When he woke up the next morning he was filled with shame, but nevertheless he was bound by his oath to betray his brother.
*HOME *