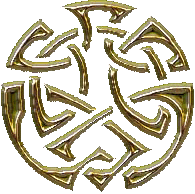 046 THE THIRD BURNING OF GULLVEIG
It was discovered that one of Freyja's handmaidens was guilty of
having betrayed Freyja into the hands of Giants, and that she was
yet a new incarnation of the monstrous Gullveig.
Thor in his rage attacked her with his hammer and felled her; thereupon she was burnt
one more time.
Those of her bodily remains not destructible by the holy fire were removed to the Underworld and buried in holy ground in order to render them scatheless.
However Loki still managed to
eat her heart.
*HOME *