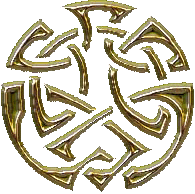 019 THE SECOND JUDGMENT OF GULLVEIG
Gullveig was reborn in Jötunheim, and made her way towards
Midgard, where she travelled in her new incarnation under the
name of Heidur.
She taught her evil runes to men, trying to wean them away from Heimdall's sacred runology, and did whatever she could to spoil mankind with her evil tricks.
But as before, she was caught in the act, and the gods deemed that she should burn at the
stake.
And so she did, but again Loki ate her heart and spawned the
Fenrisúlfur (Fenris-Wolf), a monster which Loki actually convinced the gods to raise as a pet in Asgard.

*HOME *