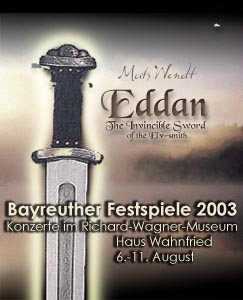 Bayreuther Festspiele 2003 Germany
in Richard Wagner Museum
Haus Wahnfried Wagner's home.
6 - 11 AUG
The piece was performed during the second cycle of the Nibelung at 10:00 12:00 and 14:00 from the 6 to 11 of August.
This was a condensed version of five hours, split in five one hour concerts, following the sword towards Ragnarök.
Special tanks to
Richard Wagner Museum in Bayreuth
and TMT for excellent technical support.

*HOME *