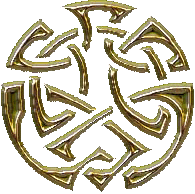 079 VÖLUND BOUND AND DEPRIVED OF HIS SWORD

Mimir, the guardian of the World Tree, had until now kept away from the Gods' striving to save the world order from the powers of destruction.
When Völund had finished his sword, Mimir saw that the Gods might never succeed.
He then left the Underworld, accompanied by his wife, who is the mother of the Dises of Night, and the Njárar, who are his kinsmen.
He went all the way up to the Wolf-Dales, where he came upon Völund sleeping, and bound him fast with his magical bonds.
He confiscated the sword of revenge, brought Völund down into the Underworld, and imprisoned him in a strong dungeon on an island in the middle of a lake.
Mimir's queen ordered Völund's knee-tendons to be cut, expecting terrible misfortune if ever Völund escaped.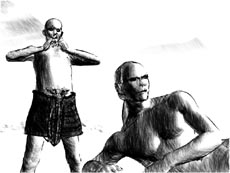 ORIGINAL GRAPHICS
MATS WENDT © All Rights Reserved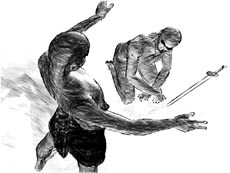 ORIGINAL GRAPHICS
MATS WENDT © All Rights Reserved
*HOME *