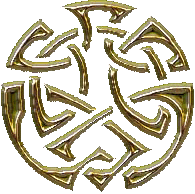 042 NJÖRD SEEKS RECONCILIATION
Njörd hastened off, taking Hödur and Baldur with him, seeking out
Ivaldi's sons. Reaching Elivogar he found that Völund and his brothers had left the citadel of the Elves, leaving the place unguarded.
Njörd and his companions finally found the brothers in the northernmost wilderness of the world.
An attempt at reconciliation
totally failed, and resulted in an archers' duel between Hödur and
Egil.
Egil proved himself to be superior, but Hödur was not hurt.
*HOME *