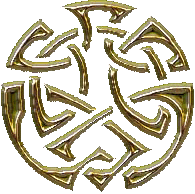 015 MAGIC RUNES AND THE FIRST JUDGMENT OF GULLVEIG
The clan of the Frost-Giants, Ymir's foot-brood living in Niflhel and Jötunheim, passionately hated mankind, which the Gods created and protected.
They also hated the holy rune-poems, which Odin learned from Mimir, and all the benevolent knowledge that Heimdall brought
mankind.
The purpose of the Giants is to bring the world to ruin, and recreate the chaotic anti-existence of Ginnungagap, out of which they were born.
Gullveig and Loki were their secret agents in Asgard. Gullveig devised a perversion of the lore of Heimdall, the evil sorcery (seid) and powerful black magic runes.
In Asgard she was one of Freyja's handmaidens, and she actually tried to convert the Goddess of Love over to her unique type of evil sorcery.
Fortunately the gods found out, and judged Gullveig to be burned to death. When the holy white fire of the Gods touched Gullveig, it became contaminated by her vileness, choked by smoke, so that it was not powerful enough to burn her heart.

*HOME *