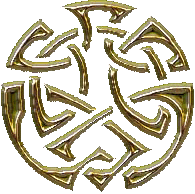 003 THE UNDERWORLD.
BUR'S SONS
The Underworld, or Jörmungrund, was the first created world.
Mimir, who is the original smith, there guards the Well of Creative Power, but the Well of Heat is guarded by the Norns, Urd and her sisters.
Bur, the son of Buri, took as wife Bestla, Mimir's sister.
Their sons, Odin, Hoenir and Lodur are the ancestors of all the Gods.

*HOME *